April 4, 1998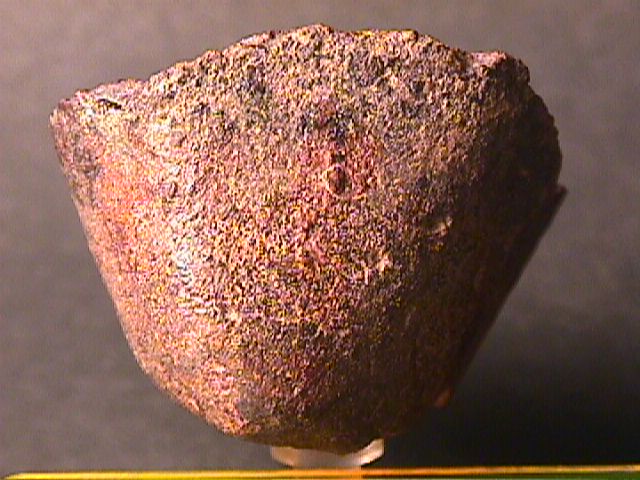 Site under construction
Enter at own risk
Hard hats and safety shoes required
Table of Gold Basin Finds - made by meteorite hunters wishing to remain anonymous.

This list is tentative. Most of these reports are second hand accounts and have not been verified. The purpose of this page is to get a feel for how many finds are going unreported. Another purpose for this page is to give those people wishing to remain anonymous, but not wanting to compromise the scientific study, an avenue in which to have their finds reported by absentee. If you would like to have your finds posted anonymously, or you know of unreported finds and you want yourself and the finder to remain anonymous, then please contact me by any of the methods given at the bottom of this page. As author/journalist of this web page, I promise confidentiality as far as the law permits. All other people can have their finds and images posted on the Volunteer's Page.

How Many?
How Large?
Got any Images?
Got any Coordinates?
Any other Information?
9 stones
Unk. One of them was ~200gm, & one other 40gm
N/A
West end of White Elephant Wash- generally.
"I love your page! It is pretty cool and you put alot of useful info on there. That day that it snowed when you guys left, we really got socked by the storm! While running to the truck by the road, my friends son, stopped and turned around just before the sleet hit us, he popped a potato sized rock out of the dirt and said, "I think I found one!" I took one look and screamed! It was a 200 gram perfect, unfractured, almost fully crusted meteorite only 40 yards from the truck and 5 feet from the road edge. It was his first meteorite. Not bad. His father found 7 total for the trip and me and his son both found one each."
2 stones
Unk. One of them was "very nice"!
N/A
"Close to the main road and near where the Gold Basin Ranch sign is."
Second hand account by a well known meteorite dealer - "Very soon after the Tucson Show, two men hunted for one day near the Gold Basin Ranch entrance. Very near where they parked their cars, one of them found two stones. One of the finds was 'supposedly' very nice. For the remainder of the day, neither man found anything else!"
10 stones
9 avg ~20gm, 1 over 600gm
N/A
N/A
Second hand account from another well known meteorite dealer - "Met an acquaintance that had spent four days out in Gold Basin. Was all over the place. Found 10 stones. Wants to remain anonymous."
1 stone
44gm
I'm confident about the location that I was given. He said that he was close enough to the road that he could use a tape measure.
From the Bhagavad-Gita, "I am (deliverer of) Death, the Destroyer of Worlds!".
Might have been, if this 3.5cm wide, oriented baby was 5 kilometers wider, but at 44gm, and after falling for miles in our atmosphere, it's amazing it didn't destroy itself. The finder reports that this was found on the surface with the nose end down and the aft end part of an interlocking, deeply desert varnished pavement of like sized clasts.
To see other IMAGES, "Click" on the following launches for 1.) a view that is SCALED 2.) a view with different LIGHTING 3.) a view of the AFT 4.) a view from the opposite ANGLE and 5.) a CLOSEUP .
NONE
N/A
N/A
N/A (Need a map here!)
If I receive very few "anonymous reports", this table may be better served as a listing of Areas Searched - Resulting in NO FINDS. To this end, I've added this report from another well known CA dealer: "Went to Gold Basin after Tucson. Didn't go all the way to White Elephant Wash. Stopped at that bend in the road where the street sign says Gold Basin Road and Glenns Hideout Road. Hunted all day in that area and found nothing. Went home empty handed."
This area that he describes has been considered as the southern limit of the strewnfield, but Jim Kriegh has told me that he has found a meteorite at that location, and that, as more time goes by and more finds are made, it becomes less clear how to estimate the size of this strewnfield or the direction of travel of the bolide. Personally, I think a proven randomly distributed strewnfield would be more interesting, scientifically. The challenge would be in "proving" randomness. Or, in other words, proving that we're not looking at too small of a portion of this strewnfield. Hence, the need to document the "areas searched - resulting in NO FINDS" becomes as important!
Images are probably by the anonymous finder.
This page is dedicated to all those anonymous meteorite finders who did the right thing.



Return to Home
To post your finds anonymously, please send find description/images and coordinates to:
P.O. Box 237
Sunland, CA 91040
or call:
(626) 584-7653