June 2, 1998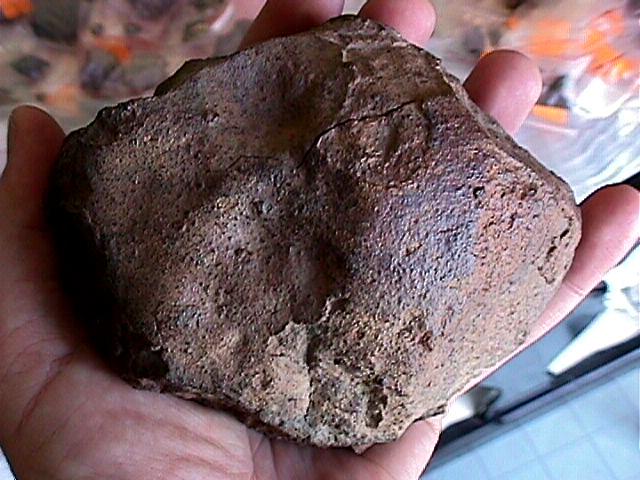 image by M. Farmer
Site under construction
Enter at own risk
Hard hats and safety shoes required
Future finds can go on the table below - to see some past finds from volunteers made on 03/27/98, "click" Here - Now
Gold Basin Finds - Made by the volunteers and visitors accompanying the Lead Field Worker, Prof. Jim Kriegh - with Descriptions and Locations

Any person that visits the strewnfield area, makes a find, and offers information or images of that find and its location, is considered a "volunteer". If you would like to have your finds posted on this page, or you were unable to contact Jim, then please email me at the address at the bottom of this page, and I will see that it is forward. Those persons wishing to remain anonymous, but not wanting to compromise the scientific endeavor, can have their finds appear on the ANONYMOUS Page.

| Specimen ID. | Image | Description/Location |
| --- | --- | --- |
| any ID No. | | A description of your find would go here. In case of Question or Comments, your name and email address or URL could go here, as well! For example, Mike Farmer's GB Page |
| e.g., GBdate-## | | If you have an image of your find, a description of what is depicted on that image could go here. |
| or, GB-Lang-No# | | Depth of burial, or a description regarding the conditions of the surface at the site of recovery would be appreciated. An image of that site could go here. |
| **MAP** | | If your not sure of your find's Longitude & Latitude, then an image of a topo map with an "X" on it, marking the spot of the find location, will suffice. |
| GB98124-RSV1 | | If I receive very few "volunteer reports", this table may be better served as a listing of Areas Searched - Resulting in NO FINDS, or even better, Areas Still Needing to be Searched. |
Images are by Mike Farmer and Bolidechaser.
This page dedicated to Jim Kriegh and Twink Monrad for all the hospitality they have extended to all of the volunteers that have traveled to Gold Basin from places far and near during these past few months.



Return to Home
For more information about how to report the location (longitude & latitude) and masses (grams) of your finds,
contact Prof. Jim Kriegh,
mail: 40 E Calle Concordia, Oro Valley, Arizona 85737
phone: (520) 297-4161
email: JKriegh@email.msn.com.